Consider the Substrate when you think about painting. We have re-sided hundreds of homes in Fiber Cement Siding and we have finished these products using a factory finishing process that is far superior to the builder's grade products available off-the-shelf.
Exterior Painting

New age acrylics form an elastic, monolithic shell onto the receiving substrate to which they are applied. For adhesion and longevity, these heavy coatings are thick and formidable, resilient and flexible, and they are failing on some substrates. Several reasons are given for the failing coatings. Below are photographs of the physical failure of these exterior finishes. The suggestion that these finishes are actually falling victim to their own superior film strength seems absurd to many, but it is true.
On many homes that we have re-sided, repainting was considered, but with only a five year anticipated return on investment, re-siding was chosen over just repainting. Many times we refinish the trim as it is still viable because it is "old growth wood." -More information by Robert Wewer on the subject of Old Growth vs. New Growth Wood

Info Re: New Growth Wood by Robert Wewer

Old growth trim, in most cases is a better material than anything we can offer in the realm of composites. The sidewalls are many times so weather-beaten and difficult to properly refinish that we opt to offer Fiber Cement Siding. The cost of repainting in a quality fashion may be prohibitive because of the preparation work involved.

The substrate is the key for a lasting paint finish. Many have heard that quality painting is all in the preparation. This is so true because the substrate must be accepting of the finish.

On wood siding, with new paint failures, some theorize that the original clapboards were not properly back-primed. This may hold some validity, however it still does not entirely explain the failure of these products. Some believe that new growth wood installed from the late 1980?s forward, which is less dense and fails prematurely, provides a substrate in flux that inhibits good paint adhesion. This is a certainty, for the fast growing, hybrids that have been used to reforest have produced harvestable trees in decades that used to take a century to mature.

(Right) Diagram - Fiber Cement Siding allows interior moisture laden air a means of escape.? At every panel, a horizontal lap allows air to carry vapor to the outside.

(Below) New Acrylic Paint has formed an envelope trapping moisture vapor and causing paint to fail.

SIMILAR CASE MOLD UNDER WOOD SIDING - MOLD INSIDE WALL

The Paint blisters are clear evidence that the vapor barrier provided by the new age paint has enveloped the home, holding interior moisture. The resulting condensation and water bags (or water blisters) in the paint break free as shown in these photographs. The water bags, when full, hold a lot of liquid water!

Interior Moisture is being pushed outward and then it is held to condense by the heavy latex wrapping provided by the new age paints. Housewraps and weather barriers become vapor retarders in colder climates as the moisture moves toward the exterior. In most cases, an interior relative humidity has to exceed 40 to 45% for this phenomena to occur.

To the right is a diagram depicting a different issue, the true water shedding of a properly installed siding project. This having to do with exterior water and showing how sealing the mechanics of flashings around windows and doors can cause its own problems. Painting alone cannot remedy poor exterior mechanics, but it can make the situation worse. CLicking on the image to the right will lead to our 'J' Channels page.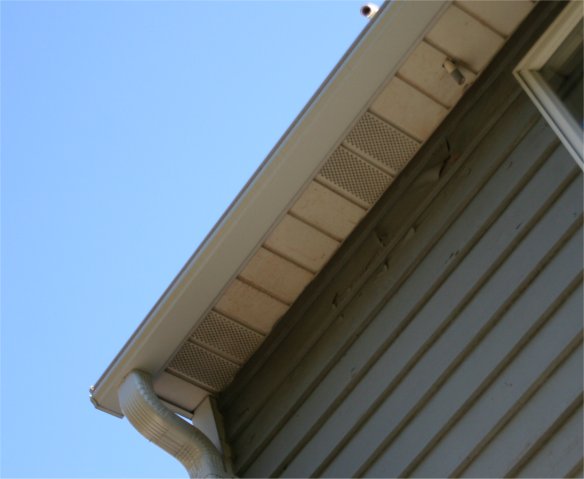 On interior work, unlike exterior work, the elements have not ruined and roughened the substrate. Usually the substrate can be prepared properly to afford a smooth and lasting surface. We remove wallpaper, skim coat and prime walls and do custom finishes for trim work and hard-to-clean surfaces.
We offer special mold resistant finishes.